Nicky Katt is an actor who has had two roles in Christopher Nolan's films:
1. In Insomnia, he portrayed Fred Duggar.
2. In The Dark Knight, he portrayed the SWAT driver who rode next to James Gordon when transporting Harvey Dent.
Katt started acting at the age of 7 in the TV programme CHiPs, and continued acting throughout his teens.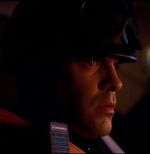 He then became a character actor later in his career, often portraying bullies or thugs.

Selected filmography
Edit
The Dark Knight (2008)
Harold (2008)
Grindhouse (2007)
World Trade Center (2006)
Sin City (2005)
Riding the Bullet (2004)
School of Rock (2003)
Insomnia (2002)
Full Frontal (2002)
The Way of the Gun (2000)
Batman & Robin (1997)
subUrbi@ (1996)
The Babysitter (1995)
American Yakuza (1993)
Dazed and Confused (1993)
The 'Burbs (1989)
Underground Aces (1981)
Television appearances
Edit
Monk (2006)
The Guardian (2003)
Boston Public (2000–2002)
Friends (1996)
Kindred: The Embraced (1996)
Lifestories (1990)
The Facts of Life (1988)
V (1984)
Quincy, M.E. (1983)
Trapper John, M.D. (1982)
Voyagers! (1982)
Father Murphy (1981)
Fantasy Island (1980)
CHiPs (1977)
See also
Edit
External links
Edit
Ad blocker interference detected!
Wikia is a free-to-use site that makes money from advertising. We have a modified experience for viewers using ad blockers

Wikia is not accessible if you've made further modifications. Remove the custom ad blocker rule(s) and the page will load as expected.