Mark Boone Junior
Role:
1. Burt
2. Arnold Flass
Date of birth:
17th March, 1955
Birthplace:
Cincinnati, Ohio, USA
Mark Boone Junior is an actor who appeared in two of Christopher Nolan's films:
1. In Memento, he portrayed Burt.
2. In Batman Begins, he portrayed Arnold Flass.
Boone has over 70 film & TV credits to his name, often appearing as corrupt officials or crooks (as he does in Batman Begins).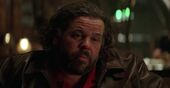 Selected filmography
Edit
The Mother of Invention (2010)
Halloween 2 (2009)
30 Days of Night (2007)
Unknown (2006)
Wristcutters: A Love Story (2006)
Batman Begins (2005)
2 Fast 2 Furious (2003)
Get Carter (2000)
Memento (2000)
The Thin Red Line (1998)
Armageddon (1998)
The Game (1997)
Se7en (1995)
The Quick & The Dead (1995)
Of Mice and Men (1992)
Die Hard 2 (1990)
The Way It Is (1986)
The Visit (1980)
Television appearances
Edit
Sons of Anarchy (2008)
In Plain Sight (2008)
Carnivàle (2005)
Curb Your Enthusiasm (2001)
Bakersfield P.D. (1993)
Seinfeld (1992)
Quantum Leap (1990)
Law & Order (1990)
See also
Edit
External links
Edit
Ad blocker interference detected!
Wikia is a free-to-use site that makes money from advertising. We have a modified experience for viewers using ad blockers

Wikia is not accessible if you've made further modifications. Remove the custom ad blocker rule(s) and the page will load as expected.