Ken Watanabe is a Japanese actor who appeared in two of Christopher Nolan's films: As Ra's al Ghul's decoy in Batman Begins, and as Mr. Saito in Inception.
Watanabe rose to fame in Japan during the 1980s, being known for playing Samurai characters. He achieved international recognition after his appearance in The Last Samurai.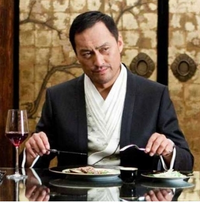 Selected filmography
Edit
Inception (2010)
Shanghai (2010)
Letters from Iwo Jima (2006)
Memories of Tomorrow (2006)
Batman Begins (2005)
Memoirs of a Geisha (2004)
The Last Samurai (2003)
Genji: A Thousand-Year Love (2001)
Space Travellers (2000)
Welcome Back, Mr McDonald (1998)
Umi to dokuyaku (1986)
Tampopo (1985)
Kekkon annai mystery (1985)
MacArthur's Children (1984)
Television appearances
Edit
Castle of Sand (2004)
Ikebukuro West Gate Park (2000)
Karate Warrior 2 (1988)
Karate Warrior (1987)
See also
Edit
External links
Edit
Ad blocker interference detected!
Wikia is a free-to-use site that makes money from advertising. We have a modified experience for viewers using ad blockers

Wikia is not accessible if you've made further modifications. Remove the custom ad blocker rule(s) and the page will load as expected.