Joseph Gordon-Levitt is an American actor who portrayed Arthur in Inception and John Blake in The Dark Knight Rises.
He began acting as a child, but continued to grow up working in the film industry. In 1999 he appeared in 10 Things I Hate About You alongside Heath Ledger. Gordon-Levitt also founded the online production company hitRECord in 2004 and has hosted his own TV series, HitRecord on TV, since January 2014. In 2013, he made his feature film directing and screenwriting debut with Don Jon, a comedy film in which he also stars. He previously directed and edited two short films, both of which were released in 2010: Morgan M. Morgansen's Date with Destiny and Morgan and Destiny's Eleventeenth Date: The Zeppelin Zoo.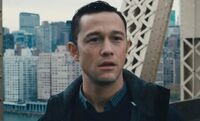 Selected filmography
Edit
The Dark Knight Rises (2012)
Looper (2012)
Lincoln (2012)
Premium Rush (2012)
50/50 (2011)
Inception (2010)
G.I. Joe: The Rise of Cobra (2009)
(500) Days of Summer (2009)
The Lookout (2007)
Brick (2005)
Picking Up the Pieces (2000)
10 Things I Hate About You (1999)
Halloween H20: 20 Years Later (1998)
Angels in the Outfield (1994)
A River Runs Through It (1992)
Television appearances
Edit
Numb3rs (2005)
The Outer Limits (2000)
That '70s Show (1998)
3rd Rock from the Sun (1996-2001)
Roseanne (1993-1995)
Quantum Leap (1991)
Dark Shadows (1991)
Family Ties (1988)
See also
Edit
External links
Edit
Ad blocker interference detected!
Wikia is a free-to-use site that makes money from advertising. We have a modified experience for viewers using ad blockers

Wikia is not accessible if you've made further modifications. Remove the custom ad blocker rule(s) and the page will load as expected.