Anne Hathaway is an actress who played Selina Kyle in The Dark Knight Rises. She also stars in Interstellar as Amelia Brand.
In 2012, Hathaway won the Academy Award for Best Supporting Actress for her role in Les Misérables. She was previously nominated for the Academy Award for Best Actress for her role in Rachel Getting Married in 2008.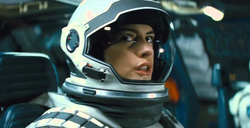 Selected filmography
Edit
Interstellar (2014)
Les Misérables (2012)
The Dark Knight Rises (2012)
One Day (2011)
Rio (2011)
Love and Other Drugs (2010)
Alice in Wonderland (2010)
Valentine's Day (2010)
PoliWood (2009)
Bride Wars (2009)
Rachel Getting Married (2008)
Passengers (2008)
Get Smart (2008)
Becoming Jane (2007)
The Devil Wears Prada (2006)
Brokeback Mountain (2005)
Havoc (2005)
Hoodwinked! (2005)
The Princess Diaries 2: Royal Engagement (2004)
Ella Enchanted (2004)
Nicholas Nickleby (2002)
The Cat Returns (2002)
The Other Side of Heaven (2002)
The Princess Diaries (2001)
Television appearances
Edit
Family Guy (2010-2011)
The Simpsons (2009-2010)
Saturday Night Live (2008-2010)
Get Real (1999-2000)
External links
Edit
Ad blocker interference detected!
Wikia is a free-to-use site that makes money from advertising. We have a modified experience for viewers using ad blockers

Wikia is not accessible if you've made further modifications. Remove the custom ad blocker rule(s) and the page will load as expected.