Andrew Pleavin
As businessman
Role:
Uniformed officer
Businessman
Date of birth:
13th April 1968
Birthplace:
London, UK
Education:
London Drama Centre
Appeared in:
Batman Begins
Inception
Andrew Pleavin is an English actor who has had 2 roles in Christopher Nolan's films. In Batman Begins, he played a uniformed officer who chased Bruce Wayne over the rooftop after he had broken into the precinct and spoken to James Gordon. In Inception, he played a businessman working for Cobol Enterprises who chased Dominick Cobb through the streets.
Pleavin spent his childhood in South Africa but returned to England at the age of 12. He holds a black belt in martial arts.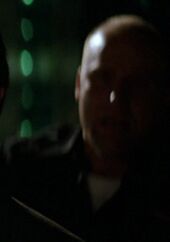 Selected filmography
Edit
The Gift (2011)
Inception (2010)
Blood: The Last Vampire (2009)
Return to House on Haunted Hill (2007)
300 (2006)
Batman Begins (2005)
Unstoppable (2004)
Re-inventing Eddie (2002)
Distant Shadow (2000)
Cash in Hand (1998)
Television appearances
Edit
The Borgias (2012)
William & Catherine: A Royal Romance (2011)
Witchville (2010)
The Worst Week of My Life (2005)
Messiah: The Promise (2004)
Holby City (2004)
Wire in The Blood (2003-2004)
Down to Earth (2003)
Doctors (2001)
Attila (2001)
Heartbeat (2000)
The Bill (1999-2005)
See also
Edit
External links
Edit
Ad blocker interference detected!
Wikia is a free-to-use site that makes money from advertising. We have a modified experience for viewers using ad blockers

Wikia is not accessible if you've made further modifications. Remove the custom ad blocker rule(s) and the page will load as expected.